Version 0.0.4 is released !
---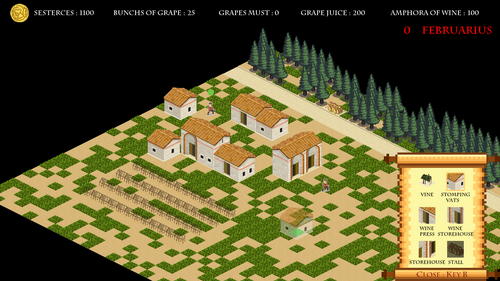 For this little update, I've added to the game the Save and Load system, so important to any type of game.
Here the list of changements :
- [New] Save and Loading System

- [New] In-game Pause Menu, allowing to Save, Load or Quit the current game
- [Modified] Added A and E keys to switch from one worker to another, in addition to the + and - keys
- [New] Added an information sheet (price, size, utility, resources needed for working / produced ) for the buildings in the Construction Mode
- [New] Added a picture changement between the Planified and Built status of the buildings
- [New] Added a new transition page between the Main Menu and the Game
---------------------------------
Pour cette petite mise à jour, j'ai ajouté au jeu le système de Sauvegarde et de Chargement d'une partie, très important à n'importe quel jeu.
Voici la liste des changements :
- [Nouveau] Système de Sauvegarde et de Chargement de parties

- [Nouveau] Menu Pause en jeu, permettant de Sauvegarder, Charger ou Quitter la partie en cours
- [Modification] Ajout des touches A et E pour passer d'un ouvrier à l'autre, en plus des touches + et -
- [Nouveau] Ajout d'une fiche information (prix, taille, utilité, ressources nécessaires au fonctionnement / produites) pour les bâtiments dans le mode Construction
- [Nouveau] Ajout d'un changement d'image entre l'état Planifié et Construit d'un bâtiment
- [Nouveau] Ajout d'une page de chargement en transition entre le Menu Principal et le Jeu
Files
Project_Gamma_v0.0.4.zip
5 MB
46 days ago
Get Project Gamma - Alpha [WiP]